H.G. Adams is the author of the following books: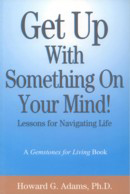 Get Up With Something In Mind
A book designed to help you navigate a successful life, this book presents a series of lessons, or road maps for making choices; choices that will determine actions that will ultimately make up the whole of your life.

Family Wisdom: Celebrating 200 Years of Life and Strength in an African American Family
This book provides a small window into the lives and the times of the Adams Family Clan. Through stories, legends, tales, and pictures, this book provides a sense of the historical legacy of the Adams family.

Career Management 101
This book serves as a primer for career and life goal planning.
---
Howard G. Adams is also the author or co-author of 15 self-help publications. To view these items, click here.