HOWARD G. ADAMS, Ph.D.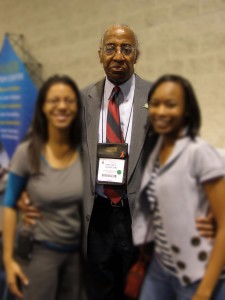 is founder/ and president of H.G. Adams & Associates, Inc.; a Norfolk, VA based consulting company that provides human development services and products to educational, governmental, industrial, and non-profit organizations. Adams is a leading expert on developing people through mentoring and strategic career/life planning. He has written, lectured, and consulted extensively on effective strategies for career, educational, and personal development. He is a sought after keynote speaker and seminar presenter, having spoken at over 650 colleges/universities, numerous national conferences, and conducted training for a number of fortune 500 companies.
Adams is the author or coauthored of fifteen self-help guides and handbooks. Titles among these are: Negotiating the Graduate School Process: A Guide for Minority Students, 1985; Making the Grade in Graduate School: Survival Strategy 101, 1993; transitioning New Hires Into the Workplace: The Strategy of Mentoring (co-authored), 1997; Mentoring for Professional Development: Mentor/Protégé Orientation Guide, (co-authored), 1998; Recruiting Graduate Students: Implementing the Key "R" of Recruiting, 1998; Mentoring: A How-To Guide for Those Interested in Initiating a Mentoring Relationship, 2002; Mastering the Ph.D. Process: Tips for Surviving and Excelling in a Doctoral Program, 2002; The Internship Guide: A Blueprint for Successfully Managing the Internship Experience, 2003; Networking; The Art of Meeting and Greeting People, 2003 (co-authored); and The Undergraduate Research Experience: Examining Roles, Responsibilities, Strategies, and Actions for Forming Effective Mentorship Alliances, 2004. He has also written and published three books, Get Up With Something On Your Mind: Lessons for Navigating Life, (2002) offers some essential for living a successful and productive life; Family Wisdom, (2006) traces his ancestral family roots from the 1700 to the 21st Century; and Career Management 101: A Primer for Career and Life Goal Planning, (2008) provides critical insight, skills, and tools for planning and managing one's career and life.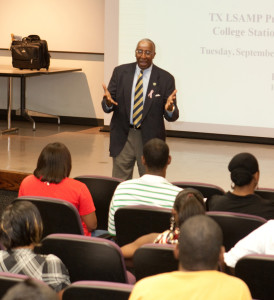 In 1989 President Ronald Reagan named Adams to the US Congressional Task Force on Women, Minorities, and the Handicapped in Science & Technology and in 1995 he was named one of the first recipients of the Presidential Awards for Excellence in Science, Mathematics, Engineering and Mentoring by President Clinton. Adams was named a "20th Century Outstanding Educator" by Black Issues in Higher Education, 1999; and was awarded the Golden Torch Award for "Lifetime Achievement in Academia" by the National Society of Black Engineers, 2002. He was selected a "2004 Distinguished Alumnus" of Historical Black Colleges and Universities by the National Association for Equal Opportunity in Higher Education and named an "2004 Alumni Star" by the School of Science and Technology, Norfolk State University. In 2006 he received the QEM Catalyst in STEM award for "Broadening Participation and Effectiveness Mentoring in STEM." He was named a History Maker in Sciences Education in 2012 by The History Makers (the nation's largest African American video history archive). Adams is slated to receive the Harold Delaney Exemplary Leadership Award from the American Association of Blacks in Higher Education, April 10, 2015, Charleston, SC.
From 1978 to 1995 Adams served as Executive Director of the National Consortium for Graduate Degrees for Minorities in Engineering and Science, Inc. (GEM), headquartered at the University of Notre Dame, Notre Dame, IN. He retired from GEM in 1995. Prior to joining GEM, Adams served as Vice President for Student Affairs at Norfolk State University, 1974-1977. Adams holds a B.Sc. from Norfolk State University, M.S. from Virginia State University, and a Ph.D. from Syracuse University.